Comedy Capers - an article and some photos courtesy of Robert Brooks from The Northumberland Gazette, September 2012
A stunning set of six giant portraits of the country's comedy greats by a north Northumberland artist have found a new home at the Alnwick Playhouse.
But it was no laughing matter delivering the jumbo artworks up into the auditorium where they are now hanging as part of a long-term exhibition.
Getting Eric Morecambe into Alnwick Playhouse proved to be a bit problematic - he had to be carried by two people for a start. And like Hattie Jacques, Tommy Cooper, Kenneth Williams, Sid James and Norman Wisdom, who all went up before him, he had to be bundled up the fire escape.
The six comedy giants are now proudly hanging in the auditorium for all to admire, but don't be alarmed. They're all super-sized portraits created by Alnmouth artist Viv Dykes, as part of a special exhibition called 'Carry on Dreaming'.
Viv has previously illustrated album covers for the likes of Alison Moyet and Johnny Mathis & Natalie Cole, as well as producing visuals for Wham! And Blur as part of London based design studio Stylorouge. And she's delighted that her latest works will now be on show to a home audience.
"It was thanks to an article in the Gazette back in January that I was invited to stage the Carry on Dreaming exhibition at the Bondgate Gallery at the Playhouse" said Viv, who has The Riverside Studio in Alnmouth.
"I'm very proud that I have been given the chance to exhibit these paintings in the Playhouse in my own home town - it's very special. Jo Potts and Nichols Stevenson from the Playhouse had the vision to imagine what impact they might have in the auditorium and I owe them a big Thankyou. I just hope they make people smile, which is what we all need at this moment in time".
Viv's paintings are as astonishing for their sheer size as they are for the level of detail they contain and the accuracy with which she portrays her subjects. Each one measures six feet by four, which presented something of a challenge in actually getting them into the venue.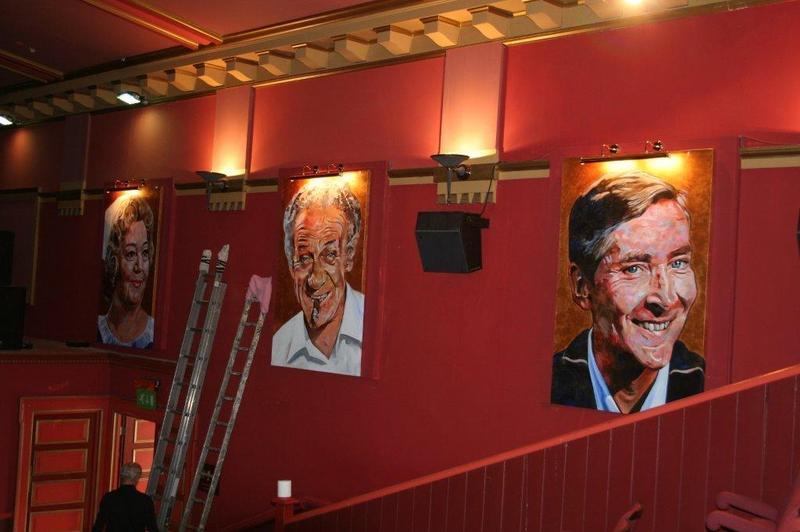 But in keeping with the comedy theme, there was a bit of fun to be had with Viv and husband Graeme donning brown removal coats and flat caps in homage to Morecambe and Wise's famous stagehands sketch which featured singer Shirley Bassey. After crossing the road in front of the Playhouse with Eric suspended on his side between them, it was then a dash around the corner to the Greenwell Road car park to access the rear of the theatre. But the next obstacle to contend with was a steep flight of stairs, up to the fire escape, avoiding overhanging tree branches which could have easily torn the fragile canvas and ruined Viv's painstaking work. And the whole process had to be repeated half a dozen times before Viv and Graeme could rest easy.
Even the Playhouse itself had to take special measures to be able to hang the portraits by creating bespoke mounting boards fixed to the wall of the auditorium. Once in place though, the impact of the new gallery is nothing short of striking.
Chairman of Alnwick Playhouse Trustees, Roy Todd said "We we're struck about how remarkable the likenesses were and also the freshness of Viv's painting style for these larger-than-life characters. We think they give the Playhouse auditorium quite a wow factor now that they are lit up. They fit their surroundings beautifully"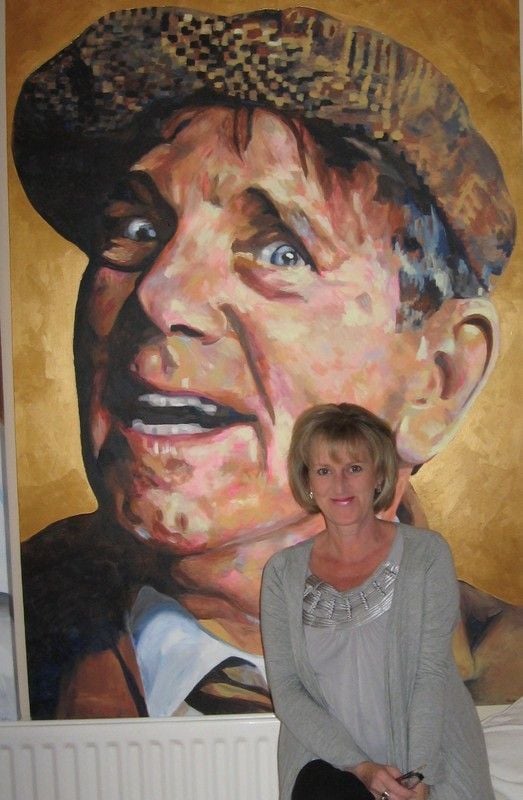 Five of the six acrylic on canvas paintings were sold when the Alnwick Playhouse closed for renovation in 2018. You can now view Eric, Tommy, Norman and Kenneth at The Capitol Theatre, Horsham where they are on long term display. Hattie is privately owned. Sid is still waiting patiently for his forever home. He currently resides in Viv's bedroom, often giving her sleepless nights!